It's not often that the Gameboy color got a decent survival horror game on it. I've only played a couple of them and most of them were just too clunky for me. I always remember how fun it was playing Alone in the Dark: The New Nightmare on my Gameboy though and this last week, I decided to dig it out and give it another shot. I knew it wouldn't hold up quite as well as I hoped, but I was still looking for another enjoyable romp into the world of Edward Carnby, the paranormal private investigator.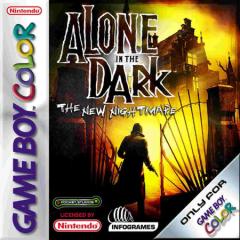 Alone in the Dark: New Nightmare Is clearly a port of the game available on the PC and PS2. It features the same plot, the same locations and many of the same weapons and items. The game is very much the same but of course, there are some substantial changes to how it is played because the Gameboy color is not capable of very much. New Nightmare does manage to push the envelope for the small, portable console. The pre-rendered backgrounds are all very detailed and nice to look at. They provide a great amount of atmosphere to a game that relies on it. There are all sorts of blood stains on the walls, fog drifting over haunting mountainsides and pale, worn interiors that look as if they are inhabited by ghouls. It's very nice to look at and while the character models don't look nearly as nice, they serve their purpose. Faces are very non-descript and some of the monsters are pretty cheaply modeled but that's just the price you'll have to pay for playing it on the Gameboy color.
Luckily, when you are in a combat scenario it becomes significantly easier to make out everything because you get a top down view. It's dark and still fairly atmospheric but the graphics are obviously changed to be more functional and less atmospheric. This way combat isn't a total bear. Of course, combat is still a bit wonky. It is a bit difficult to aim at times but once you get used to walking to a position that allows you to fire in a straight line, it really isn't so bad. The fights are fun, the weapons are varied and enjoyable. Sadly, there isn't much of a variety of monsters for you to fight but that's also not really the focus of the game. If you are looking for a great top down shooter, then don't look at the New Nightmare.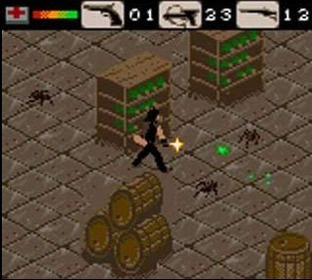 Moving around the side of the mountains, the dark grounds of the mansion you explore and the other locations the game spits at you isn't very difficult. You can clearly see your character in relation to the scene you are in. Unfortunately, it can be easy to get lost at times. The screen will wipe from one scene to another, much like other early survival horror games, only on the Gameboy color it can get disorienting. It can be bewildering when you exit one scene and are faced with another and a new camera angle. Once you get used to the layout of the primary locales it isn't so bad though. I did find myself a bit frustrated when I found a key and couldn't find my way back to the door I believed it went to, but I never was frustrated to the point of quitting either.
The puzzles are actually pretty solid. Some of them are fairly difficult however most of them you'll have solved fairly quickly. I can only recall a couple times when I was sitting on a puzzle for more than 15-20 minutes. It's not a very challenging game but there are quite a few puzzles.
Sound definitely isn't a high point for the game, but I think that's mostly due to the Gameboy's hardware. I don't recall many Gameboy games that had music that blew my mind. Most of the sounds you'll hear are just ambient or in the background. Most of them are easily identifiable and indicate doors being opened or closed, footsteps, or howls. They serve their purpose but aren't great by any means. The music is fun in a cheesy b-movie sort of way.
I really enjoyed playing through this game. I think, if you have the heart to truck through an older Gameboy game, you'll enjoy it too. I'll probably play Resident Evil on the Gameboy color next as I don't think I ever did touch that one.
Below is a link to an emulator for GBC and the rom for Alone in the Dark: New Nightmare. I've heard it's a bit harder to play it on a rom but if you don't already own a Gameboy color it's here for you to try.